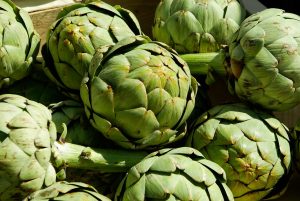 Artichokes with Light Lemon Dipping Sauce
2016-02-27 01:44:59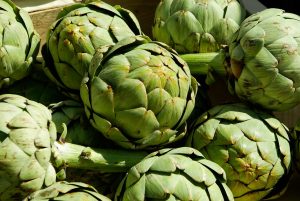 Serves 2
Artichokes are perhaps the most sensuous of vegetables - always eaten with the fingers. Cooking them with lemon slices preserves their color.
SAUCE
2/3 cup plain yogurt, Greek style is best
1/3 cup fresh lemon juice
1 tablespoon organic unfiltered apple juice
2 tablespoons Dijon mustard
1 teaspoon curry powder
ARTICHOKES
2 Artichokes
3 quarts water
1 lemon, quartered
PREPARATION (SAUCE)
In a medium bow, whisk together all the sauce ingredients.
Let sit at room temperature.
PREPARATION (ARTICHOKES)
Trim the bases of the artichokes so that they stand upright.
Using kitchen shears, clip the points from the artichoke leaves.
Bring a pot of water to boil; add the artichokes and lemon.
Boil, Uncovered, until tender, about 25 minutes.
Drain well.
Serving Instructions
To serve, center each artichoke on a small plate. Spoon the sauce onto its cavity or into a small bowl for dipping.
Gardens To Gro https://www.gardenstogro.com/